Hey everyone. Just wanted to stop in and share a layout I created. I love paper scrapping. I always have. I've just never been one to haul out all the supplies, cut paper, glue etc. to create my layouts. I don't do clutter, I don't do messes, so paper scrapping was a no-go for me. When I found digi I knew it was the "one" for me. *insert cheesy love song*
I still love checking out all the beautiful and awe-inspiring paper pages. I even love a lot of the sketches the paper scrappers have. So it's often that I find myself wanting to recreate what I see….just in digi form.
I am here today to share a paper to digi transformation I did back in April. I don't have video for this one, but it took me quite some time. Getting the shadows and butterflies just right was my Achilles heel. lol. That's the fun part of digi, you can redo and undo and redo over and over until you like it.
The layout I used as inspiration, I found on Scrapbook.com. I fell in love with the butterflies instantly, since they are one of my favorite elements to add on my pages. And in my products too, lol, I don't think you'll find many of my kits without at least one butterfly fluttering about.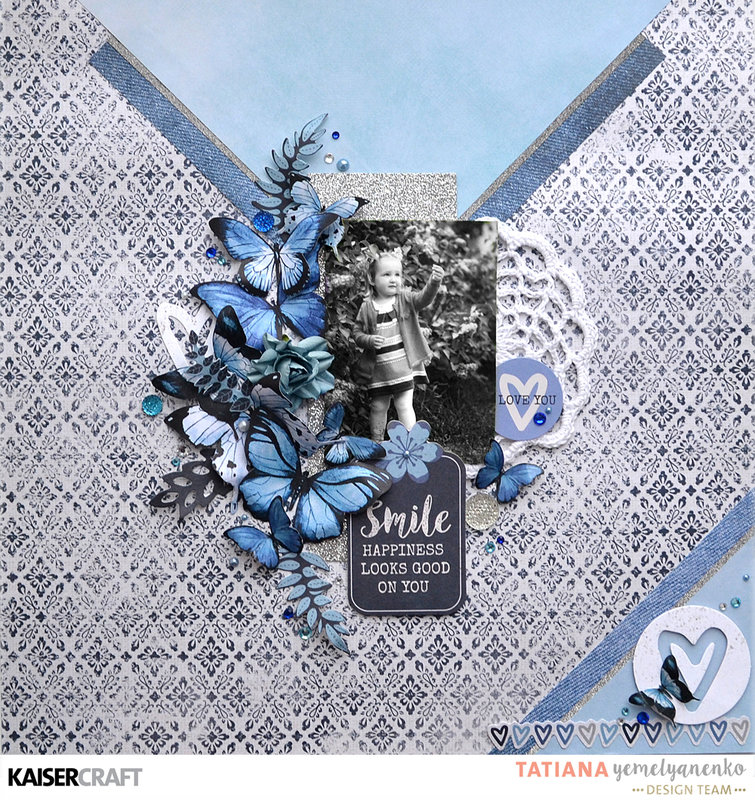 *you can view the layout and credits HERE
This layout is gorgeous. From the clustering to the monochromatic color scheme. And that darling photo just sealed the deal. I had to have this look transformed into a digi layout for myself. So I set out to make it happen. With this one, I wanted to whole design so I started with the background and papers and the overall layout design. I created that in Photoshop. I added my photo and used a journal card for the word art. Now it was time for the fun….all those gorgeous butterflies. That part took some time. Some recoloring of a few butterflies and a lot of shadows on their separate layers (with your layer palette open you can right click on the drop shadow effect and navigate to create own layer, this puts your shadow on it's own layer so that you can warp and transform). I added in a few extra flowers and some stars for added effect. Because go big or go home right?! lol
I used my kit, Best Friends 4Ever for all of it, except the butterflies were CU and recolored. I had a lot of fun transforming the paper layout into digi. Have you tried to transform a paper layout before? How do you think I did? I love reading comments, so don't be shy!
Have a great day!